5 Car Auctions Near Youngstown, Ohio – Top Auto Auctions in Area
If you're in the market for a quality used car in the Youngstown, OH, area, you've probably come across Sweeney Cars during your search. Sweeney Cars have been serving the Youngstown area for a century now, and our inventory includes many late model cars from nearly every manufacturer. Buying used can save you money too, which appeals to many people. You don't absorb the rapid depreciation of a new car when you purchase a used vehicle. You can often find a car that has remaining warranty coverage, adding security to your investment.
Yet, some people still look to save money on a used car. If that's the case, have you considered visiting a local automobile auction? You can find hundreds of vehicles in various conditions at a local auction, all priced to sell. While the cars might need a good car wash, they still offer excellent value. With demand at an all-time high, many dealerships visit these auctions, including Sweeney Cars, to find quality vehicles to add to their ever-shrinking inventory of used cars. You can, too, and that's why we've created this list of local vehicle auction sites.
Fleet Vehicle Disposal and Commercial Liquidations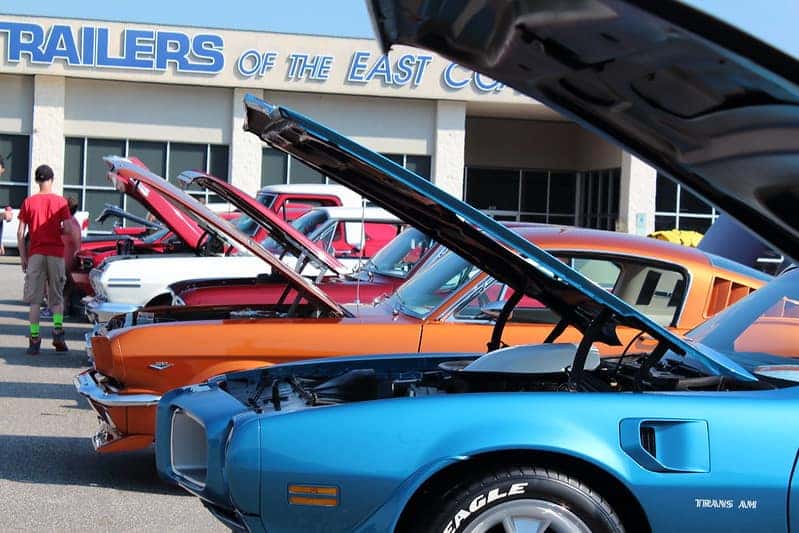 Image via Flickr by Trailers of the East Coast
Many companies operate fleets of vehicles, from car rental businesses to utility companies and more. When their cars reach a certain age, companies want to sell them, replacing them with newer models. These cars, trucks, and SUVs have often been well-maintained, making high mileage less of an issue.
Fleet Vehicle Disposal and Commercial Liquidations serve the entire continental United States, and it just so happens that their home office happens to be in Pennsylvania, your back yard. You can check their list of upcoming auctions to see when and where they plan on selling next. You'll get plenty of details about the vehicles up for sale. They also conduct online auctions, eliminating the need to travel to the site. Of course, we recommend taking a look at any car before you buy it, but you don't have to if you're confident in the car's condition.
Wheatland Public Auto Auction
Put on by ADESA, the Wheatland Public Auto Auction deals in all types of vehicles, from heavy-duty trucks to fleet vehicle disposal. You'll find hundreds of cars for sale in one location, a mere 30 minutes from Youngstown in Mercer, PA. Car rental companies like Enterprise, Avis, and Budget take advantage of this huge public auto auction to sell their aging vehicles. Many leasing companies use this auction to reduce their inventory too.
National lenders like Capital One, First National Bank, and Autopay use the ADESA auction to sell repossessed vehicles that previous owners failed to make the payments on. These repossessed cars, trucks, and SUVs offer unique value as they have lower mileage and remain in better condition than fleet vehicles. These banks want to recoup their investment but don't have time to wait for retail prices. Instead, you'll find them marked to move at wholesale prices, making them an exceptional value.
422 Auto and Bus Auction
Located less than an hour east of Youngstown in Slippery Rock, PA, you'll find 422 Auto and Bus Auction. They schedule auctions once a month and have well over 100 vehicles in various models and differing conditions. Their inventory comes from multiple sources, including local dealerships, their purchases, and even charity donations.
The family-owned and operated 422 Auto and Bus Auction has over 35 years of auction experience serving Pittsburgh and Ohio car buyers. They also buy and sell cars on their lot every day. Their auctions take place every month live and via simulcast, or you can enter rotating auctions online. Because of their relationship with local car dealers, they offer many late-model cars, trucks, and SUVs these dealers take in as a trade. They also take vehicles on consignment, so if you have a vehicle you'd like to sell, they can do it for you, either as part of an auction or on their sales lot.
Central Ohio Recovery, Inc.
Central Ohio Recovery, Inc. operates a towing/vehicle recovery service. They conduct regular auctions on vehicles that they've towed, repossessed, or otherwise acquired. Because they handle the recovery aspect of repossession, they often have high-quality cars with low miles that they can sell fast. This one-stop shop appeals to lenders because it takes less time to sell the repossessed vehicle through Central Ohio Recovery, Inc. auctions than to coordinate consignment with another auction site.
While they don't have the number of vehicles other more significant auto auction sites have, they do have a constantly rotating list of cars you can bid on. These vehicles change daily, so check back often, especially if you're looking for something specific.
Akron Auto Auction
Located less than an hour west of Youngstown, you'll find Akron Auto Auction, one of the more prominent auctioneers in the region. Every week they conduct auctions on various repossessed vehicles, government contractor liquidations, and fleet disposals, all available to the public. You'll find well over 100 cars, trucks, and SUVs from all manufacturers. Their affiliation with government contractors adds another level of vehicles available that you wouldn't get at smaller sites.
Why Attend a Public Auto Auction?
Everyone loves to save money, and a public auto auction can get you a great car at a reduced price. But many people like to visit public auto auctions like they would auto shows. Browsing the available vehicles, you never know what you might find. Many auctions have classic cars, high-end sports cars, and even antique automobiles. So if you love cars, you can spend a day checking out vehicles you wouldn't see every day.
Some auctioneers have more than cars. You can find all sorts of equipment, tools, and household items unrelated to automobiles. You can pick up these items at low prices too. If you've ever spent a day visiting yard sales or antiquing, you'll probably enjoy these auction sites as well.
Sweeney Cars have proudly served residents in and around Youngstown, selling quality new and used vehicles for over 100 years. We know the importance of sticking to your budget and finding a great car at a fair price. Auctions can provide excellent value, but so can we. That's why we stock an expansive inventory of vehicles, many priced under $10,000 to help you find the perfect and affordable car. You can browse our inventory online or visit our lot to check out our great deals.