ATV Trails near Youngstown, Ohio | ATV Parks in Ohio
ATV trails have been a critical component of America's motoring tradition for decades. Youngstown, Ohio, is home to some of the nation's best off-road trails, thanks to its thousands of miles of rugged terrain. Today, the motoring experts at Sweeney Cars sample some of the best Ohio ATV trails so that next time you want to have some off-road fun, you'll know where to start. In this guide, you'll learn what each of these trails has to offer and how to get there. So, let's get down to it.
Youngstown MX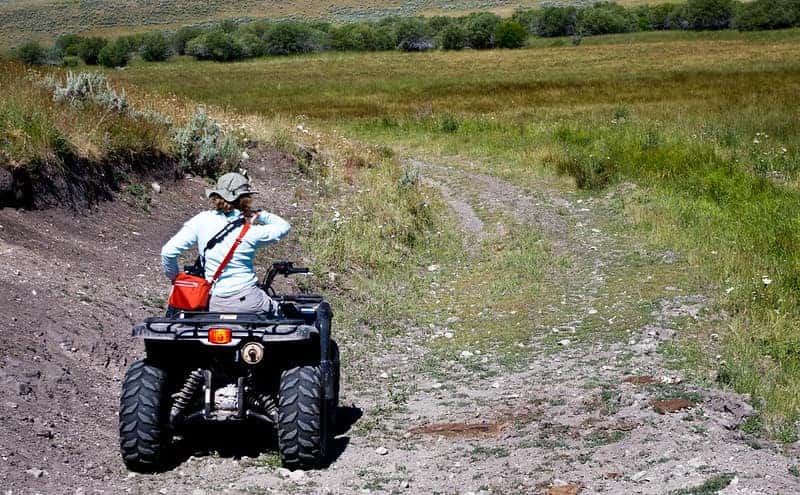 Image via Flickr by Scott Akerman
Widely regarded as one of the best trails in Youngstown, this trail features some of the best terrains you'll find anywhere in Ohio. Depending on the action you want and your expertise level, there are several tracks to choose from at this motocross park.
The diverse terrain at the trail also allows for different racing styles. On this ATV trail, you'll experience an incredible mix of nature, thanks to the lakes, streams, waterfalls, and hills that dot the area. So, if you're looking to have some off-road fun as you savor nature with your family, Youngstown MX is the place to be.
The facility can accommodate different ATVs, be it quads or trucks. Whether you just want to have an easy time enjoying the trail or testing yourself against other off-road enthusiasts, there's no better place to be than the Youngstown MX trail. On the downside, however, the park is sometimes open to motorcycles only.
Western Reserve Motorcycle Club
Located 25 miles outside Youngstown is the Western Reserve Motorcycle Club in Salem, OH. The club grounds comprise 100 acres of breathtaking trails and a quarter-mile-long dirt flat track with lights and bleacher seating. Here you'll find one of the most challenging outdoor motocross tracks for ATVs. Besides, the Western Reserve Motorcycle Club features dozens of hare scramble wood trails that are often changed regularly. This adds an element of fun all the more.
One exciting feature of the Western Reserve Motorcycle Club is its high elevation and stunning switchbacks, steep drop-offs, and technical "rock steps." You'll enjoy fantastic views of the surrounding nature as soon as you get on your ATV, including thick forest and rolling hills.
Besides the winding tracks and available seating, the Western Reserve Motorcycle Club has a concession building, often open on event days. Here, beer, pizza, candy, hot dogs, and coffee are served, so never worry about spending a hungry day on the trail. What's more, there's an on-site car wash in case you want your ATV washed.
Getting to this ATV trail in Ohio is easy since it's well connected to major transport routes. However, this trail isn't for experienced riders and individuals with fear of height. But, if you're a daredevil off-road enthusiast, you'll enjoy every minute of your time there.
Tri-City Raceway Park
Located deep in the Steel Valley is the Tri-City Raceway Park. The Ohio ATV trail has been operational since 1954. It was initially a half-mile track but currently boasts a 3/8-mile go-kart track and a half-mile dirt oval that accommodates both beginners and experienced ATV drivers.
During the racing reason, Tri-City Raceway Park hosts events almost every weekend. If you're looking to get into ATV racing, there's a wide range of classes at the park, including junior and adult 410 sprint races, mini stocks, Mod Lite races, and 358 modifiers.
Thanks to its longevity, the Tri-City Raceway Park has a long-established tradition of hosting some of the most notable racers in American history, including Kenny Wallace and Jeff Gordon. It has also hosted major racing tours such as DirtCar and the Sprint Series. Thus, it's a world-class facility that won't disappoint
It's pretty easy to access the raceway park since it's located off the Two Mile Run County Park. Besides, it's safe and has plenty of parking spaces and other amenities. So, if you're looking for a family-friendly Ohio ATV trail, make Tri-City Raceway Park your go-to destination.
Sharon Speedway
As the name suggests, this trail is for those who like pushing their ATVs to the limit. The Sharon Speedway has a long history dating more than 90 years. It has been described as the go-to ATV trail in Ohio, and it's easy to see why. Some famous racers who have strutted their stuff at the Sharon Speedway include Christopher Bell, Rusty Wallace, and Kyle Larson. It has even hosted the NASCAR competition, which attests to its legendary status.
Those who have raced at the Sharon Speedway point out that there's nothing quite like it. The thrilling racing action and clay track make it one of the best trails you'll find anywhere. The facility also allows for different racing styles on a wide range of machines.
One exciting aspect of racing on the Sharon Speedway is the special packages on offer. For instance, you can take advantage of the track's birthday packages to treat a loved one on their special day. Needless to say, they'll remember it for the rest of their lives. Typically, races at the Sharon Speedway run from April to September annually. Therefore, there are plenty of opportunities to race against the best.
Phoenix Off-road Park
This is one of the newer ATV trails near Youngstown. Located in Wintersville, OH, the Phoenix Off-road Park sits on over 1000 acres and features more than 70 miles of trails designed to suit all types of drivers. Whether you're a beginner or experienced driver, you'll find the trail that suits your skills-set.
The trail also features a large camping area, as well as a shop and catering services. Hence, you can spend a whole weekend hitting the trails, knowing too well that all your needs are catered to. Although it's located next to the Steel Valley, this trail isn't overrun with off-road enthusiasts. So, you can expect some quiet time as you hone your off-roading skills.
At Sweeney Cars, we have a long-established tradition of racing. We know a good ATV trail when we see one. So, if you're planning to hit the trails around Youngstown, OH, this review will come in handy.