Best Burgers around Youngstown – Our Top 5 Spots
If you're craving a hearty burger in the Youngstown area, you can choose from several options. The area features an assortment of burger restaurants with specialties that will redefine the way you think of this sandwich. Naturally, those who prefer a more standard burger are well-served here as well, with plenty of picks for a basic hamburger or cheeseburger.
Whether you're thinking spicy, cheesy, vegetarian, or even sweet, there's a burger nearby that will meet your needs. Check out these options.
The Federal
110 W. Federal St., Youngstown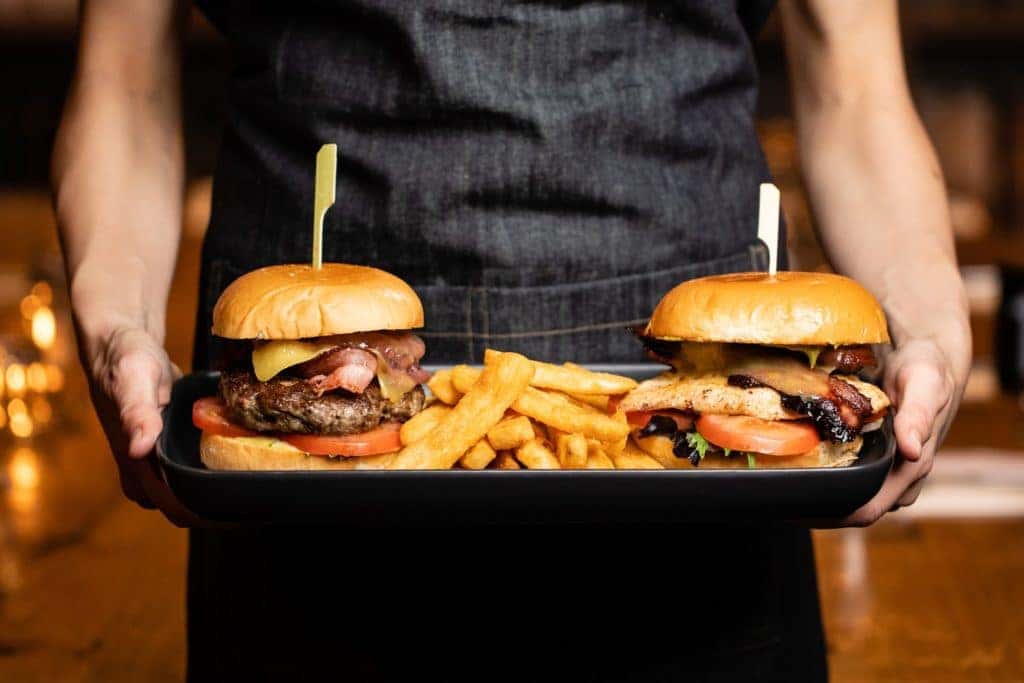 Image via Unsplash by fifthlane
Conveniently located in downtown Youngstown, The Federal is a local favorite for juicy burgers and craft beer. The menu features a wide selection of specialty burgers that put a unique twist on this timeless meal.
Enjoy a bit of Western flair with The John Wayne, featuring bacon, onion rings, grilled onions, cheddar sauce, and barbecue sauce. The Firecracker heats things up with jalapenos and Sriracha sauce. If you're looking for something really original, order the Grilled-Cheese Burger and you'll get your patty between two grilled-cheese sandwiches with a side of burger sauce. If you're recovering from a rough night, The Hangover Helper delivers bacon, American cheese, hash browns, and a sunny-side-up egg on your burger, complete with bacon aioli on the side.
If these and the other specialty burgers on the menu don't quite do it for you, you can also build your own burger for an endless range of options. Start with the house beef blend or sub in a homemade turkey burger or veggie Beyond Burger. Select your bun, choose from five cheese options, and layer on toppings such as bacon, sauteed mushrooms, grilled onions, jalapenos, pickles, and more. Finish with a sauce from choices such as chipotle aioli, herb ranch, or burger sauce. With so many ways to go, The Federal is sure to deliver a pleasing experience.
Coaches Burger Bar
3032 Center Road, Poland
Located just south of Youngstown, the Poland Coaches Burger Bar is one of six Ohio locations. Coaches was established in 2015 to honor the hardworking coaches who help local youths lay down a solid foundation for their futures. The Burger of the Month and Shake of the Month ensure that there's always something new to try, but even the standard menu gives you a wealth of options.
Coaches offers over a dozen burgers to choose from. The Cleveland Burger is one of the more distinctive options, topped with grilled kielbasa, fries, coleslaw, and barbecue sauce. The Day Break Burger changes things up with pickled jalapeno, tots, bacon, buffalo sauce, and a fried egg atop a burger sandwiched between thick slices of Texas toast. If you're really hungry, challenge yourself to the Coaches 1LBer. This massive burger features two Coaches patties on a three-part bun with lettuce, onions, tomato, provolone, cheddar, bacon, and chipotle aioli.
Every burger comes with Coaches' signature fresh-cut fries. You can pair your burger with a milkshake, spiked milkshake, soda, bottled or draft beer, wine, or a cocktail.
Sespe Burger
8252 Market St,, Boardman
At Sespe Burger, every patty is smashed by hand for the crispy edges and irresistible taste fans have come to love. The standard single or double cheeseburger comes with American cheese, lettuce, tomato, grilled onion, and Thousand Island dressing. The Sespe Cart Burger features American cheese, tomato, grilled onion, and Sespe sauce. If you're looking for a meat-free option, the Impossible Burger features a juicy veggie patty grilled on a dedicated vegan griddle and topped with vegan American cheese, lettuce, tomato, pickles, ketchup, and mustard.
You can customize any of these options with add-ons. Options include bacon, avocado, mushrooms, jalapenos, pastrami, and an over-easy egg. Fill out your meal with loaded fries or onion rings if you have room.
The Alternative Food Truck
Location varies
The Alternative Food Truck is based in Youngstown, but it's always on the move, so you'll have to check its latest location before you head out for one of these filling burgers. If you're hosting a special event, you can even hire The Alternative to come and serve your guests, making specialty burgers the highlight of the night.
The Alternative serves six distinct burgers that definitely depart from the ordinary. The Devil Burger is a scorcher with jalapenos, chili, pepper jack cheese, onion, and hot sauce. The Blues Burger has both fresh blue cheese and dressing along with bacon and grilled onion. With the Southern Burger, you'll get pulled pork, slaw, cheddar, barbecue sauce, and pickle atop your burger. For something a little sweet, try the Cop Burger, served on a donut. If you're not in the mood for beef, the Lamb Burger is an intriguing twist, topped with red onion, lettuce, tomato, and tzatziki sauce.
For the truly daring, the Defibrillator delivers a full pound of beef with three slices of cheese and the toppings of your choice.
Valley Burgers
4350 Boardman-Canfield Road, Canfield
Valley Burgers is located in the heart of Canfield, just southwest of Youngstown. Unlike many restaurants that default to American cheese on their burgers, Valley Burgers typically uses cheddar for a richer taste.
The burger menu includes some distinctive options, such as the California burger with tomato, avocado, mozzarella, and house-made ranch mayonnaise. The Sunrise Burger has bacon, fried egg, lettuce, onion, tomato, and cheddar. On the mushroom Swiss burger, you'll enjoy grilled onions and mushrooms, Swiss cheese, and house-made garlic mayonnaise. For Western flavor, the BBQ Bacon Burger comes topped with cheddar, bacon, grilled onion, and barbecue sauce.
If these options aren't to your liking, you can also build your own quarter-pound burger with topping options that include bacon, avocado, lettuce, pickles, jalapenos, tomato, egg, sauerkraut, and onion. Choose from American, cheddar, Swiss, mozzarella, and pepper jack cheeses to truly make this creation your own.
These are our top picks for tasty burgers in the Youngstown area. Did we miss one of your local favorites? Contact us at Sweeney Cars and let us know where you get your burgers so we can always offer the best recommendations.