How to Use a Drive Through Car Wash | Car Wash Tips
You know that you need to take your vehicle in for regular servicing to keep it running at its best. But beyond getting your oil changed and fluids flushed regularly, you also need to be cleaning your car to help prevent rusting and maintain its value. You can choose an automatic car wash over doing the job yourself or using a hand-wash service since an automatic system takes about 5-10 minutes to get the job done.
If this is your first time visiting a car wash, we share a few steps you should follow. We also have a few notes about the best car wash facilities in the Youngstown, Ohio, area.
Compare Touchless vs. Automated Car Washes
Before settling on the car wash you want, you should first identify the type of service you need. There are two types of drive-through car wash systems: touchless and soft-touch.
Here are some things you should know about the soft-touch and touch-free car washes :
A soft-touch car wash uses brushes and cloths.
A touchless car wash uses water jets for more effective cleaning.
A soft-touch car wash system can clean hidden spots, like around the front of your license plate, rocker panels, and the rear vehicle spots. However, it can dull the vehicle's shine or exacerbate damages from a loose trim or severe collision. The system can also damage loose parts and result in scratches due to abrasive contaminants wiped across the surface.
With a touchless car wash system, nothing touches your car except washing products and water. The system uses chemicals to emulsify contaminants from your car while the water jets blast them off without using friction. This system can easily clean massive cars that cannot go through the soft-touch car wash, but touchless systems cannot wash some hard-to-reach areas adequately.
Both the automated and hand-washing systems have pros and cons, and it's good to learn about each before using one.
Find a Car Wash Near You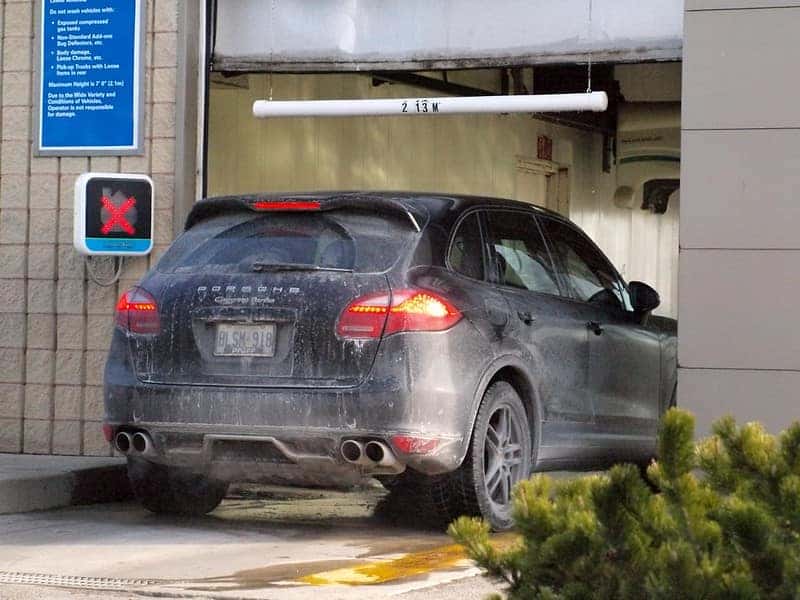 Image via Flickr by MSVG
To find a car wash nearby, you can seek a professional car detailing company or go to Google Maps to search the top-ranking car wash places in your area. You can also ask friends for recommendations. Consider factors such as how often you need to have your car cleaned, whether the car wash uses fresh or recycled water, and how far the car wash is from your home.
If you live near Youngstown, here are some top car wash places you can visit:
Splash and Shine Auto Bath. Located at 869 Midlothian Blvd. in Youngstown, this family-owned business operates for 24 hours. It has a five-star rating and offers car waxing, car care, tire cleaning, and interior vacuuming services.
Xtreme Clean Auto Spa. Xtreme Clean Auto Spa is an exterior-only car wash found at 8525 South Ave. in Boardman. This car wash has various services on offer depending on the amount of dirt your car has accumulated.
Touchless Automatic Carwash. Touchless Automatic Car Wash is located at 7810 Southern Blvd. in Youngstown. As the name suggests, this car wash features a touchless car wash system, and the facility claims that it can leave expensive cars spotless. The car wash also has car detailing experts.
Wash Kingdom Car Wash. Wash Kingdom Car Wash features three main options to choose from. It has a touch-free, soft-touch, and self-service car wash. The car wash provides you with all the materials and detergent you will need for self-serve.
A couple of these car wash places appeared in one of our reviews, so there are several good facilities to choose from in the area.
Pay for the Service
Car washes offer different packages, from a basic wash to waxing and tire detailing. You have to drive to the payment station, pick a package that suits you, and pay for it. Some places have no outdoor or automatic payment systems, so you may have to pay the cashier.
Approach the Car Wash Opening
Move towards the car wash opening, looking for arrows and signs to guide you to stop your vehicle. Make sure that you turn off your wipers, especially if they start automatically. This can help prevent damage to your wipers during a car wash.
Close Your Windows
An automated car wash may be slightly noisy as water splashes over your car. It's important to roll up your windows to prevent water from getting in, especially if you have children in the car. If you are to leave your engine running, turn off your collision avoidance system. Some automated car washes will instruct you to turn off your engine. You can ask the attendants whether this is necessary and what to do in this step.
Get Into the Car Wash
Once inside, move your car until your front tires get in line with the truck system. The system may guide you using the lights and arrow signals to help move your car to the correct position. After positioning your car, put it in neutral if it's a manual vehicle or put it in park if it's an automatic transmission vehicle. Be sure to take your foot off the brake.
Leave the Car Wash
After your car is spotlessly clean, you'll be informed to leave. If you have turned off your engine, fire it up and cautiously leave, especially if the car wash is near a garage or refilling station. This is to avoid injuring the staff, pedestrians, and other car owners. The attendants might dry your car using cloth if you purchased a full-service car wash. You can also let the car dry on your way.
Cleaning your car regularly can help maintain its quality and price. Make sure to pick a reputable place that offers excellent service. By following the above steps, cleaning your car will become easy and fast. You can also visit Sweeney Cars to find the used car of your dreams and take it for a test drive. Just make sure to pass through one of these car washes to make your new car shine.