Local Music Thrives: Music History in Youngstown, Ohio
Although not as large as some of the other Ohio cities like Cleveland and Columbus, Youngstown has served as a location for many local musical artists to thrive. Its central location between Cleveland and Pittsburgh, as well as its proximity to six colleges, makes it an ideal spot for up-and-coming musicians looking for a break.
Steel Industry Collapse Forces Youngstown to Evolve
Incorporated in the mid-1800s, Youngstown was named after New York native John Young. In the early 19th century, the discovery of coal saw the area become part of the famed Erie Canal and spurred industrial development. By the late 19th century, the establishment of steel mills brought numerous Eastern European immigrants to the area.
However, by the early 20th century, iron ore deposits became depleted, forcing the shutdown of steel mills. Added to the issue was the slow decline of U.S. steel production by the 1970s, and as a result, the city sought to redefine itself but still maintain its "tough as nails" mentality. That's what bands and musicians in the area took to heart, especially those that wanted to perform for more than a couple of years.
Youngstown hit the ground running within the music scene during the 1960s and 1970s. Today, many local artists consider this new music scene in Youngstown as one of northeastern Ohio's best-kept secrets. Local radio stations help these artists by giving their music a chance to air.
Youngstown, Ohio Performers Make It Big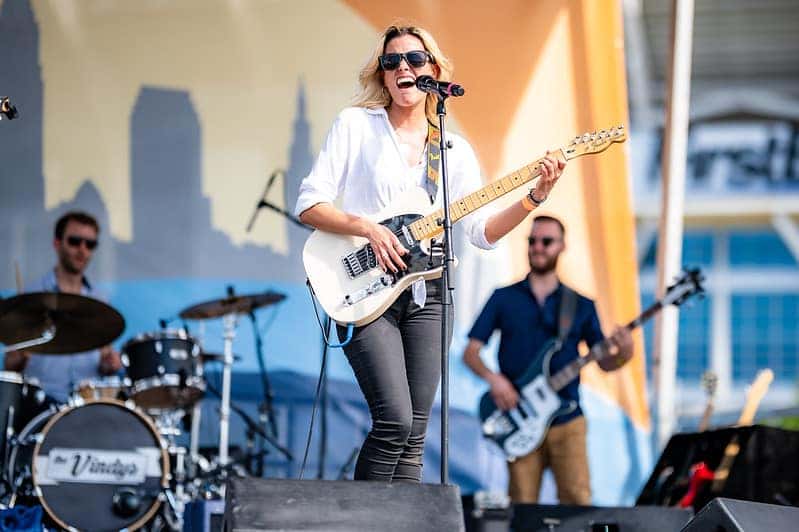 Image via Flickr by EDrost88
Youngstown has fostered a musical influence on thousands of people, and this is just a sampling of those who have made a mark on the industry:
Billy Beck: Songwriter and keyboardist for the Original and New Ohio Players as well as Zapp and Roger.
Robert and Ronald Bell: Members of Kool & the Gang.
Jordan Christopher: Lead singer of The Wild Ones.
Jerry DePizzo: Member of the rock band O.A.R.
Bob DiPiero: Songwriter who has written country music songs, including those for the Oak Ridge Boys.
The Edsels: Doo-wop group that sang "Rama Lama Ding Dong."
Glass Harp: A rock band with Phil Keaggy, John Sferra, and Daniel Pecchio.
The Human Beinz: Rock and roll group from the 1960s that sang "Nobody but Me."
Left End: Heavy-metal band formed by members of local garage and R&B bands.
Cheryl Monroe: Singer whose single "Satellites" reached Number 85 on the Billboard Hot 100 in 2005.
MUNNYCAT: Noise pop band whose music has been featured on video games.
Booker Newberry II: Member of Sweet Thunder and Impact.
The Vindys: A band that is known for its blend of pop, jazz, and rock.
Nearby Venues Continue to Highlight Local Music in Youngstown Area
Over the years, venues in Youngstown and surrounding areas have provided the stage for musical acts to perform. One of the biggest from the 20th century was the Idora Park Ballroom, which was located on the Idora Park amusement park grounds. It was one of the largest dance floors situated between New York City and Chicago and saw local and big-name bands take the stage. After a fire at the amusement park in 1984, the park closed, and the ballroom was never to be used again.
Despite the fact the ballroom is no longer in use, there are still plenty of nearby locations to listen to local bands today. Some of these venues have been around for decades, while others have recently opened. Some of the more popular sites include the following:
The Casual Pint
Not a traditional music venue, The Casual Pint is a craft beer, cider, and mead store that has musical acts perform several times a month. Opened in 2017, the establishment has an outdoor patio and plenty of indoor seating. You can grab a beverage, order some food, and listen to your favorite band sing a few tunes. Local acts such as Party of Two, Dead Flowers, and Mahoning Matters are just a few that have performed here.
Robins Theater
Originally built in the 1920s, Robins Theater in nearby Warren recently underwent $5 million in renovations to become one of the area's premier venues. The theater closed 45 years ago and opened back up to the public in late 2019. It has three levels of seating with a capacity of around 1,500. Some bands that have performed here throughout the years include Glass Harp, Air Supply, Christopher Cross, and Jonny Lang.
Stambaugh Auditorium
Listed on the National Register of Historic Places, Stambaugh Auditorium is an indoor theater that seats about 2,500 people over three levels in its Concert Hall. Since it opened in the 1920s, the theater has hosted a variety of famous acts, including Chuck Berry, Ray Charles, Bruce Springsteen, Florida Georgia Line, and Fifth Harmony.
Local acts also have hit the stage via its Bands at the Baugh ([email protected]): After Dark event, which typically occurs throughout the summer. In previous years, The Shootouts, Howard and the Five Point Band, and Demos Papadimas have performed.
Warren Community Amphitheater
An outdoor amphitheater, the Warren Community Amphitheater sits along the banks of the Mahoning River in nearby Warren and is one of the county's newest entertaining venues. With seating for more than 3,000 people, this multipurpose venue is the perfect spot for local artists to perform.
Youngstown Foundation Amphitheater
An outdoor amphitheater that opened in 2019, the Youngstown Foundation Amphitheater hosts a variety of events throughout the year, including local performers via its Premier Bank Community Event Series. The Youngstown city skyline overlooks the 4,800-seat facility, while vast green space dots the landscaping. You can opt to sit in the premium seats at the theater or bring a lawn chair and blanket to sit in the private, gated lawn area.
So there you have it. When it comes to local music in Youngstown, this city has produced some legends in the industry. But did Sweeney Cars miss any musicians or venues that you think are important to this area? If so, make sure you let us know. Reach out to us so we can add it to our list.