What To Do After Buying a Used Car – Next Steps After Buying A Used Car
You've scoured the Youngstown, OH, area from Warren to New Castle, Hermitage, and beyond to find the perfect used car. Finally, you agreed on a fair price, signed the paperwork, and now the vehicle belongs to you. Congratulations! Time to take that road trip you've been dreaming about, right?
Before you ride off into the sunset, you still have several necessary steps you need to take. To assist you through the process, we've created this helpful list of items you must take care of before you can legally and safely drive your new car. Take care of these things first, and you'll drive off into that sunset confidently, knowing you've set yourself and your vehicle up for success.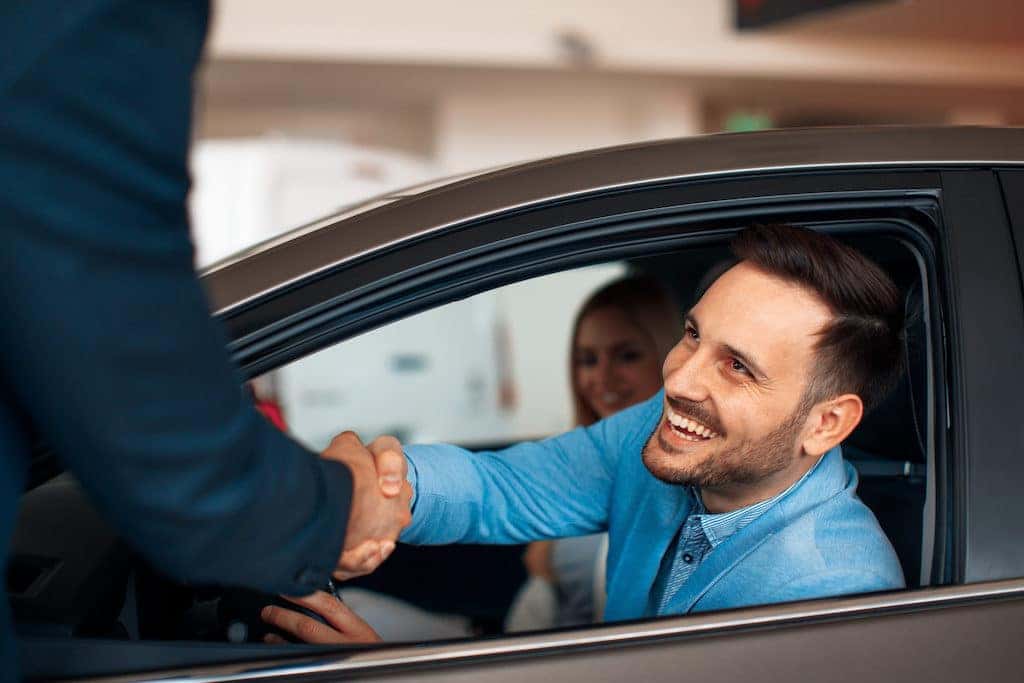 Title Transfer
The vehicle's title must get transferred into your name as soon as possible, as this serves as the legal record of ownership. If you purchased your used car from a dealership like Sweeney Cars, the dealership handles this paperwork for you. However, if you bought your used car from a private seller, you must file the paperwork yourself.
The seller must present you with the title at the time of the sale. Title experts recommend checking the back of the title to ascertain if any liens were placed on the vehicle before purchasing. If you see liens listed on the back of the title, you must get the seller to provide legal proof that these liens have been removed before you buy the car.
How Long Do You Have to Get Insurance After Buying a Used Car?
Insurance protects you and others against financial loss, and most states require a minimum level of insurance. At a minimum, you likely have to purchase and show proof of liability insurance that protects other drivers, people, and property owners should you cause an accident that results in damages and injury to others.
If you finance your used car, the lender will require you to purchase a collision and comprehensive policy covering damage to your vehicle. You might also have to buy gap insurance if your loan amount exceeds the actual value of your car. Gap insurance covers that difference in the event of a total loss. Your lender will provide you with the type of coverage you'll need. You'll be required to show proof of insurance at the Department of Motor Vehicles (DMV) when you register your vehicle.
If you're wondering how long you have to get insurance after buying a used car, you're not alone. It would be best if you never drove even the shortest distance without insurance. Many dealerships won't let you drive off the lot without proof of insurance. You won't face that restriction in a private sale, but you should have insurance in place from day one. Every state requires you to demonstrate financial responsibility for any liability or damages you may cause while operating your car. Most states require insurance as proof of this responsibility.
When Do I Get My License Plates Used Car?
You must register your car next. You have a 30-day grace period to register your new vehicle. During this period, you can drive your vehicle as long as you have the sales agreement, title, and necessary insurance.
If you purchased your vehicle through a dealership, they typically handle the registration paperwork for you. Many dealerships can give you a permanent license plate the day you buy the car. However, in some cases, a dealership may only give you a temporary license plate that you can use until they finalize the DMV paperwork.
If you bought your car from a private seller, you'd have to visit the DMV yourself to process the paperwork. You're probably wondering, when do I get my license plates for a used car? In a private sale, you'll get your license plates immediately after registering your vehicle at the DMV.
How to Get Temporary Tags for a Used Car
In some cases, your DMV may issue you temporary plates while you wait for the permanent tags to arrive in the mail. The process of how to get temporary tags for a used car varies by state. Therefore, you should contact your local DMV if you think you need temporary tags.
Get Your Car Inspected by a Mechanic
Experts recommend creating a list of questions to ask when buying a used car. In addition, you should have the vehicle inspected by an independent mechanic before you finalize the sale. Even if you did, you should still have your new car inspected by a qualified mechanic. Finally, some states require your vehicle passes an emissions test to drive the car legally. You typically have 30 days to get this emissions test completed.
Have your mechanic check all of your major systems. Most mechanics recommend changing the oil and other fluids immediately to ensure safe operation. You should have belts, hoses, brake pads, tires, and other wear items inspected and replaced if necessary. You want a safe, reliable car, and when buying a used vehicle, you don't always know the service history. It's better to be safe and have these items immediately replaced rather than suffer a breakdown.
Read Your Owner's Manual
Nobody gets excited about reading the owner's manual, but it does provide valuable information. You'll learn about how all the systems work, regular service intervals, proper tire pressure, recommended fuel, and what all the warning lights mean. After reading the owner's manual, you can set up a schedule with your mechanic for regular maintenance.
Consider a Vehicle Service Contract
If you purchased your used car from a dealership, you might have existing warranty protection from the manufacturer. If not, the dealership probably offered you a vehicle service contract (VSC). A VSC protects you against unwanted breakdowns when you have no warranty coverage and can save you thousands of dollars should you need significant repairs.
We hope you found this article helpful as you navigate the process after buying a used car. At Sweeney Cars, we know how challenging the steps you must take after buying a used car can be. That's why we've streamlined the process for our customers. We can handle all the paperwork with the DMV and have you driving away in your dream vehicle the same day, legally and responsibly.
We have one of the largest inventories in Youngstown of late-model used vehicles, certified pre-owned cars, and rotating specials on popular brands. We invite you to browse our inventory online or stop in for a more hands-on experience. Our professional team will expertly walk you through the post-purchasing process and have you on that road trip you've wanted to take in no time.