GM Electric Car Comparison: Chevy, Buick, GMC
General Motors plans to bring 20 electric vehicles (EVs) to market across its brands globally by 2023, with a dozen new models slated for the United States market. Offerings from Chevrolet, Buick, GMC, and Cadillac have a common thread of ample power, reliability, and style.
Chevrolet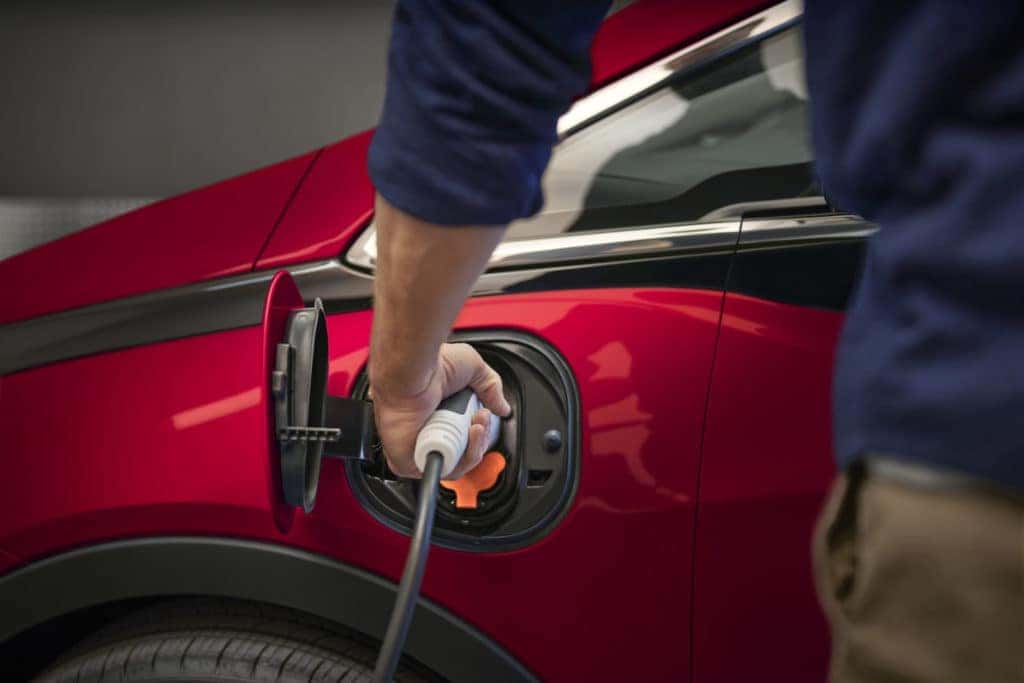 Transitioning to a Chevrolet EV is made simple with the myChevrolet Mobile App with Energy Assist, which lets you plan routes and secure public charging stations in real-time using your smartphone. The Bolt Electric Utility Vehicle (EUV) features partially automated assisted driving technology that incorporates available features like hands-free driver assistance, lane detection cameras and sensors, and over 200,000 miles of compatible roads in the United States and Canada. It offers a range of 247 miles and 200 horsepower. It goes from zero to 60 mph in seven seconds and can comfortably seat five.
The full-size electric Silverado pickup truck features a range of 400 miles, over 660 horsepower, and goes from zero to 60 in 4.5 seconds. Options include a four-wheel-drive system with four-wheel steering and four-corner air ride adaptive suspension. Towing capacity will be up to 10,000 pounds, with up to 14 available camera views, making backing up and parking easy.
The Blazer EV is Chevrolet's new midsize SUV and will be available in the summer of 2023. It'll have an estimated range of up to 320 miles on a full charge and go from zero to 60 in less than four seconds. The Blazer EV will offer different battery ranges, trim levels, colors, and other features for a customized feel. It'll have up to 557 horsepower and feature three options for the drivetrain: front-wheel drive, all-wheel drive, and rear-wheel drive.
The existing Bolt EV will continue with a new model in 2023, building upon its affordability, efficiency, and safety history. The new model features an estimated range of 259 miles and can go from zero to 60 in 6.5 seconds.
Buick
Buick is bringing back the classic name Electra for its all-electric SUV line. The SUVs are planned for the 2025 model year and will be revealed in 2023. The car line will begin with the Buick Wildcat EV Concept, incorporating innovative styling with biometric technology and artificial intelligence. It's slated for 2024 availability as Buick's first EV.
GMC
GMC offers two all-electric super trucks, the GMC Hummer EV Pickup and the GMC Hummer EV SUV. Both vehicles handle challenging terrain and feature comfortable interiors with innovative and convenient features. Rear seats fold for additional cargo space, and floors lift to reveal additional storage compartments. High-definition dash displays feature customizable touchscreen access to all the necessary information. The Hummer EV pickup shows how its Ultium Platform can provide full power and top performance to EVs of all sizes. The new modular battery and drive-unit platform powers everything from cars, crossovers, SUVs, trucks, and commercial vehicles.
Cadillac
The Lyriq has a 312-mile range and optional all-wheel drive with two motors that power all four wheels. Its Ultium battery provides a 50/50 weight distribution, allowing a lower center of gravity and responsive handling. All-wheel drive models have about 500 horsepower, with rear-wheel drive models providing about 340 horsepower. Driving modes include settings for touring, winter weather, sport driving, and customized. The futuristic Celestiq flagship model sedan will feature hands-free driver assistance technology, the newest EV technology, and five high-definition LED displays, including a 55-inch-wide dash display.
The custom-commissioned Cadillac Escala will have an interior finished in brushed aluminum, leather, and walnut. Driver displays will accept voice and gesture commands. Elmiraj brings back the grand coupe experience of a classic roadster. Based on the Cadillac El Dorado, the coupe features wide doors and a longer wheelbase. The Ciel convertible incorporates classic Cadillac luxury and design. It features four seats, ample space, and rear-hinged doors that add to the open-air luxury.
GM Platform Highlights
Except for the Bolt EV and EUV, the new GM vehicles will feature the BEV3 platform and emerging Ultium battery technology. Driving ranges will exceed 400 miles on a charge. The new battery technology allows various configurations for small and large SUVs, with drivetrain options like front-wheel drive, all-wheel drive, and rear-wheel drive. The below chart highlights some top specifications but note that numbers will vary depending on the drivetrain and other options.
| | | | | | |
| --- | --- | --- | --- | --- | --- |
| | Chevrolet Bolt EV | Chevrolet Blazer | Chevrolet Silverado | Hummer EV Pickup |  Cadillac Lyriq |
| Miles/30-minute charge | 98 | 156+ | 200+ | 200+ | 195 |
| Battery size | 65 kWh | Not disclosed | 200 kWh | 200 kWh | 100 kWh |
| 0-60 acceleration | 6 seconds | under 4 seconds | 4.5 seconds | 3 seconds | 6 seconds |
| Mileage Range | 259 | Up to 320 | 400 | 329 | 312 |
| Horsepower | 200 | Up to 557 | 660 | up to 1,000 | up to 500 |
In addition to saving on fuel, EV owners often qualify for tax incentives at state and federal levels and other benefits like utility discounts. Installing a charging station at your home may also be partially covered by the vehicle manufacturer or special programs sponsored by utilities or government entities.
Plug In America
You can view nearby incentives by entering your Zip code on the Plug In America website. The site also provides information on shopping, reviewing, and comparing features, charging at home or on the go, and special events for EV owners and potential owners.
What Kinds of Plug-In Electric Vehicles Are Available?
Traditional hybrid cars don't need to be plugged in since they recharge their auxiliary batteries during driving and braking. Plug-in hybrid electric vehicles (PHEVs) use electric and gas power in tandem, alternating between power sources depending on the driving conditions. PHEVs must be plugged in to keep their batteries charged.
EVs operate solely on electricity and must be charged. PHEVs and EVs can be charged with regular 120-volt power. However, charging is quicker using a special 240-volt setup installed at your home or in public locations like parking garages and charging stations. Road trips with a PHEV or EV require some planning, which can be done through your smartphone.
;
Much like gas mileage on a traditional car, battery life for EVs depends on driving habits, terrain, and the use of extras like air conditioning. The radio, headlights, and other accessories can also use battery power. When you're ready to check out an electric model, stop by to see the Sweeney Cars team. Sweeney Chevrolet is located at 8010 Market St., with our Sweeney Buick GMC at 7997 Market St. in Youngstown, Ohio. Not in Youngstown? We can deliver your car for free within a 300 mile radius, so contact us today!