Lease Return Headquarters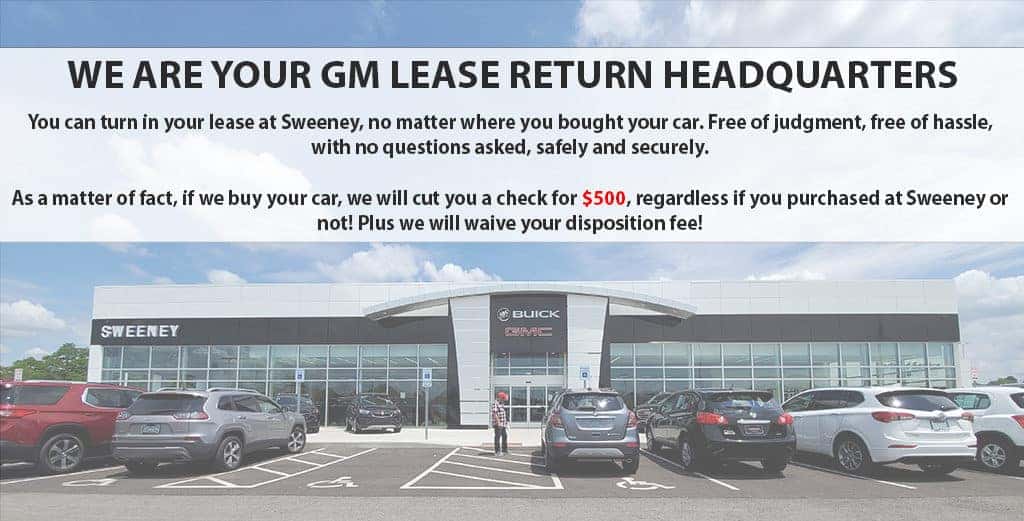 We are your GM Lease Return Headquarters
We get it, we can't win them all!  We just want you to know that there's no hard feelings and we hope you will consider us in the future.  We also want you to know that you can turn in your lease here, no matter where you bought your car.  We accept Buick, Cadillac, Chevrolet, and GMC.  Free of judgement, free of hassle with no questions asked, safely and securely. As a matter of fact, if we buy your car, we will cut you a check for $500, regardless if you purchased at Sweeney or not! Plus we will waive your disposition fee! Sweeney is your General Motors lease turn-in headquarters.
What we offer:
Free Pre-Return (turn-in) inspections
Free shuttle return rides home
Peace of mind knowing that your vehicle is stored in a safe and secure location
What's next?
Call us at 330-623-6487 or simply fill out the form below and one of our team members will contact you right away to set an appointment to turn in your lease.